Sonlok® Thread Sealants is designed for use as a replacement to PTFE sealing tape for its almost instant setting and excellent sealing properties. When fully set and cured, it can withstand pipe pressure up to 1000 psi and able to resist most industrial oils, hydraulic fluids,  and gaseous matters. Sonlok® Thread Sealants can be applied to most pipe joints that are used in the Oil & Gas, LPG, Water and Sewerage piping industry as it provides outstanding sealing function and prevents leakages to the pipings. 
Replace Teflon tape

Excellent sealing property for pipe joints

Provides almost instant sealing

Withstand internal pipe pressures up to 1000 psi

Able to withstand steam, oils, hydrocarbons, solvents and mild acids
Fire sprinkler pipe joining

HVAC hoses

Potable water pipes

Gas pipes

LPG Gas Valves

Water tank pipings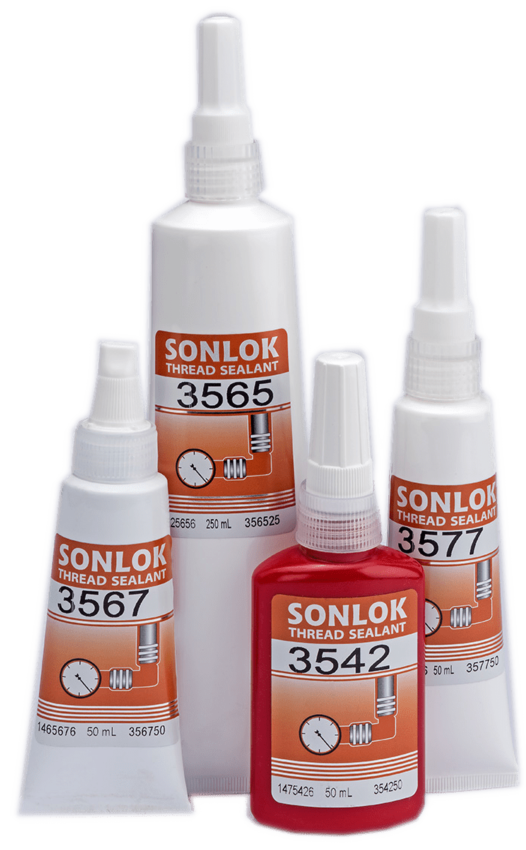 SONLOK®
Retaining Compounds
Sonlok® Retaining Compounds is used mainly for its ability to bond and seal stainless steel shaft to bearings strongly, mostly used for different kind shaft bonding for the motors assembly. Based on anaerobic chemistry, the adhesive will provide a fast setting and high compressive strength when cured. It provides ease of use for assembly when other adhesives' chemistry do not meet the specifications when comes to shaft bonding. It can withstand high operating temperature, good resistance to most chemicals and has excellent compressive and bonding strength.
Increase the shear strength of non-threaded cylindrical parts
Variable viscosities to fulfill gap sealing and adhesion
Fill voids of shaft to cylinder
Prevent corrosion and seal fitting parts
Good oil and chemical resistance
Good temperature resistance
Incorporated with UV activation to tackle uncured adhesive
Bond to a solid one-piece assembly
Bonding of metal shaft to roller bearings
Securing stainless steel pin to collar
Gearbox shaft assembly
Locks bushings and sleeves in housings
Bonds rotors to shafts to various types of motors
Bonds pins, plugs, and adaptors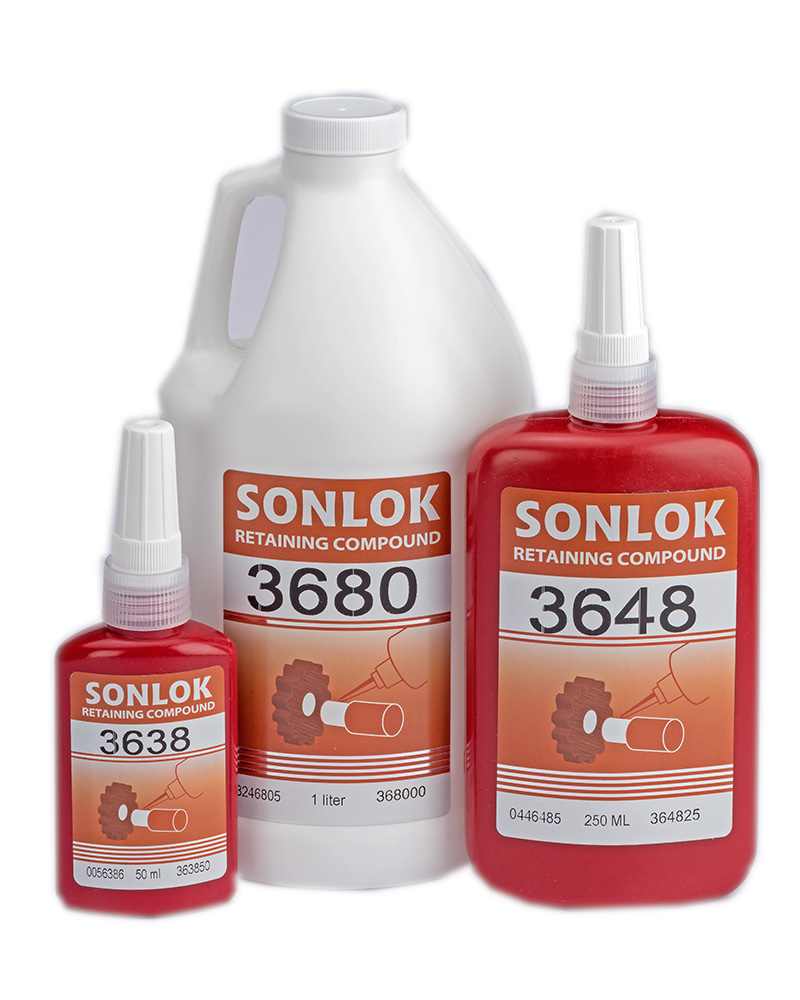 SONLOK® 3555 Pipe Sealant and SONLOK 3290 weld sealant are excellent products of choice of fire protection professionals.
SONLOK®  3555 Pipe Sealant uses unique anaerobic technology with Teflon ® to prevent leaks in sprinkler systems. SONLOK 3555 Pipe sealant widely used in fabrication and installation to replace pipe dope and sealing tapes with durable and reliable seal.
SONLOK®  3555 sealant provides an instant seal of 1,000 psi and a cured seal that surpasses the burst rating of most of the pipes. Due to its unique Teflon ® filled technology and smooth nature, assembly will require less effort, and eliminate excess wear and tear on installers and equipment.
Cures on metal in the absence of air
Special Teflon based anaerobic to prevent leak with fire sprinkler
Replace pipe dope and sealing tape
Exceed 1000 psi pressure resistance
Smooth treading during application
Lubricates during assembly
Easy disassembly with hand tools
No solvent, no shrinkage and lower cost
Withstand high temperature
Fire sprinkler piping
Fire extinguisher
Copper pipe bonding
SONLOK®
High-Temperature Resistance
Sonlok® High-Temperature Resistance anaerobic adhesives range is formulated to withstand high operating temperature up to 340°C continuously without any degradation. These high-performance anaerobic adhesives are well suited for applications that require fasteners to stay intact during operation and running at high temperatures. For use in high-speed motors, transformers, boilers, engines and transmission. 
High temperature resistance up to 340°C.
High torque strength
Provides lubricity during threading
Prevents mating parts from corrosion