UV adhesives are composed of acrylate or epoxy-based monomer that contains photoinitiator in the polymer chain that will cure within seconds when exposed and irradiated with UV or visible lighting system accompanied with the appropriate wavelength (365 - 400nm) and light energy intensity. 
This One Component adhesive is 100% solventless, optically clear, fast curing with good thermal and aging stability are well received by the different industries for its versatility especially for clear bonding application.
Parson® Adhesives Inc,  Everwide Chemical & Vitrobond® offer a complete line of UV and Visible light curing adhesives for wide variety of applications for bonding, encapsulating, coating, tacking, and sealing. The range UV curable adhesives are clear, high strength, and excellent adhesion to glass, metals, and a wide variety of medical plastics
With customs formulation, we are able to formulate and produce any specific type of UV or UV with light-curing property adhesives that will address the application requirement like: 
High strength

Excellent stability

Fast cure speeds

On-demand curing

Variable viscosity

High clarity

High precision
The typical industries that UV adhesives are being used and applied on include glass & optical lens bonding, fiber optics, wearable devices sealing, RFID glass tag potting, and disposable plastics medical apparatus.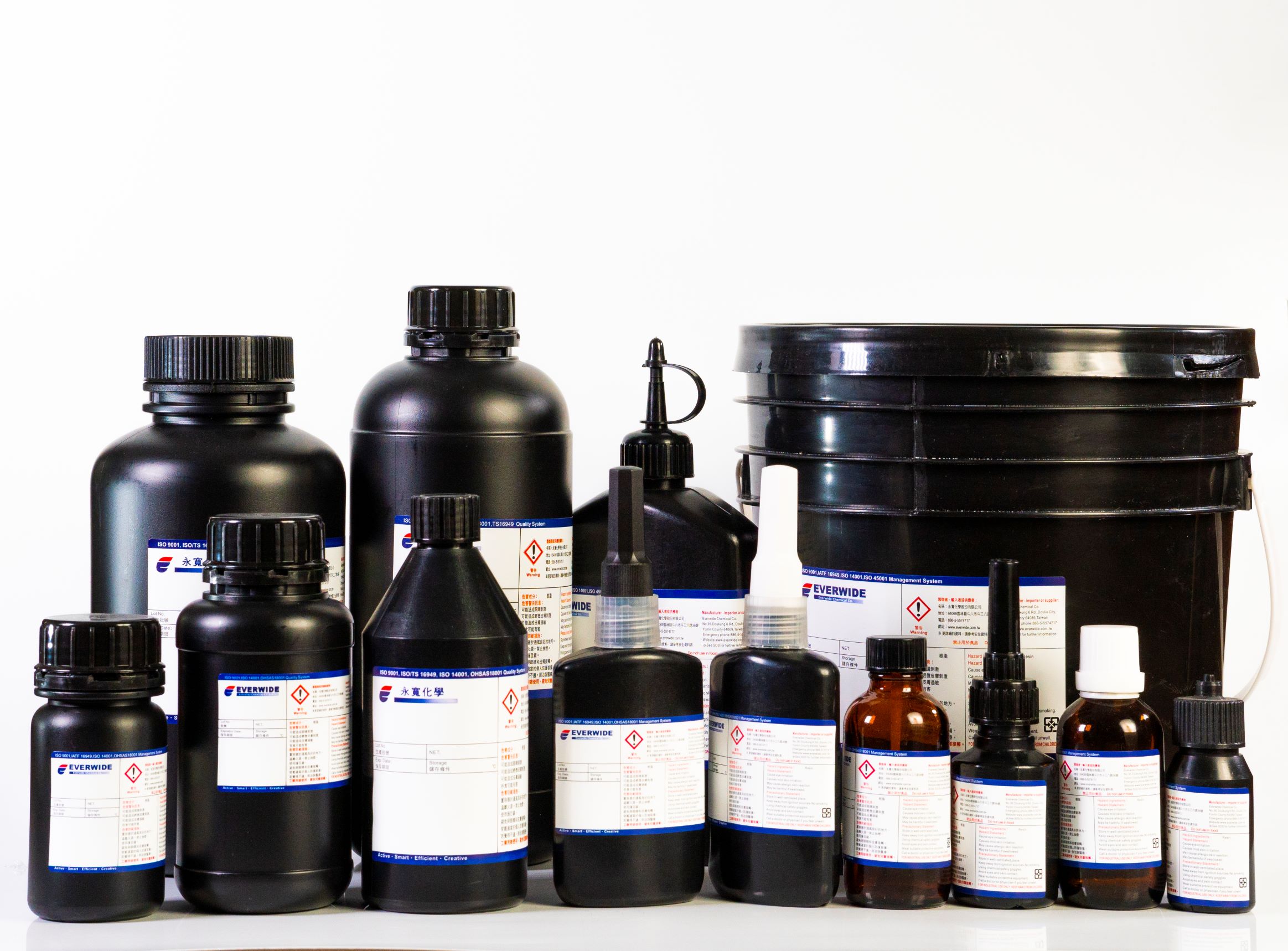 Everwide UV Adhesives
Everwide Chemical UV Adhesives Series encompass applications from bonding, sealing and coating that fulfill most electronic assemblers.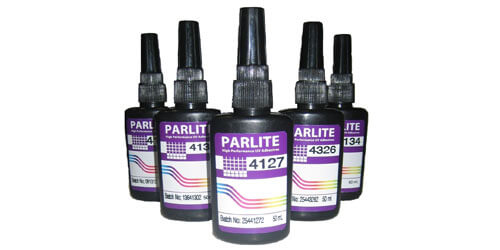 Parlite UV Adhesives
Parlite UV Adhesive Series provides the widest range of light-curing adhesives system that is well accepted by the electronics, electrical, medical, and optical industries. 
UV Adhesives for Electronic
UV adhesives made for electronic assembly fall under the categories of encapsulation, conformal coating, bonding, and sealing due to their excellent surface hardness and clarity when fully cured.
Being 100% solventless and with no Volatile Organic Compounds (VOC) in the formulation, it has gained wide acceptance by the electronic industry for use in encapsulation, bonding, and coating applications as these adhesives provide clarity, low shrinkage, good durometer, aging, and temperature resistance. 
All these ranges of electronic grade UV adhesives from Parlite (Parson Adhesive Inc) & Everwide Chemical are the end products of the requirements being put forward by the design engineers and users from the electronic industry. The UV adhesives are some of the best formulations being developed and have trimmed down the time to market demand. 
1 component adhesive.

100% solventless.

High transparency.

Variable viscosity.

Good electrical insulation.

Cure on demand with the light source.

Will not cause corrosion to metal substrates

Stable shelf life between 0 to 25°C
Potting & Encapsulation (Glob Top) of bare die.

Sealing of FPC connectors.

Bonding of thermal switches.

Bonding of clear plastic housing to wearable devices.

Coating of E-Rod I/C Chip.

Clear coating of Printed Circuit Board. 
UV Adhesives for Medical Devices
Engineered and produced with the strictest medical compliance UV adhesives from Parlite & Everwide Chemical are being used by the medical devices assembly, disposable industry such as needle & syringe, respiratory masks, tube sets, catheters, reservoirs, oxygenators, medical testing equipment, and more related uses. 
The range of UV adhesives are either visible or UV light curable resins are versatile with their application be it sealing, potting, or bonding of medical devices or disposable apparatus that demand instant reactive adhesives with good bonding strength for high throughput. 
Designed to comply and meet the strictest medical compliance of ISO Test Standard 10993 or USP Class Standard criteria for UV adhesives that are being used in the assembly of medical devices and apparatus.
1 component adhesive.

100% solventless.

High bonding strength to plastics and metals.
Cures in seconds.
High clarity.
Able to comply with ISO 10993-5 standard.
Plastic hub to needle bonding.

Plastic tubing to catheter bonding.

Respiratory face mask bonding.

IV tube to plastic hub bonding.

Medical RFID tag sealing and bonding. 
UV Adhesives for Optical & Fiber Optics
The range of UV adhesives designed for Optical and Fiber Optics are produced with the highest standard performance in terms of optical clarity with a good refractive index, anti-yellowing property, excellent viscosity rheology, and thermal performance. 
Specialty UV adhesives from Parlite® & Everwide Chemical made for Optical and Fiber Optics are applicable for optical lens bonding, prism alignment, doublet bonding, bundling & splicing for fiber optics, and much more high-end optical assembly and bonding.  
With higher precision and performance demand from the Optical and Fiber Optics industries, this range of UV adhesives is developed and produced with faster curing profile, very low shrinkage, low moisture resistance, and the ability to withstand high temperature and humidity during functional operation.
1 component adhesive.

100% solventless.

High refractive index.

Non-yellowing.
Variable viscosities.

Cure on demand with the light source.

Will not cause corrosion to metal substrates

Stable shelf life between 0 to 25°C
Optical lens assembly.
Riflescope lens assembly.
Fiber optics ferrule bonding.
Fiber optic bud bonding.
Prism block bonding.
CMOS lens assembly.
LED lamp housing assembly.