Types of Potting & Encapsulation Compounds
One Component Epoxy (1 Part) with semi-viscous flow has been used for potting and encapsulation of sensitive or electronics components from the harsh environment and electrical insulation purposes. It is much simpler to use as compared to a Two-Component Epoxy system since it is has been premixed and frozen to sustain its shelf life. 
Like Two Component Epoxy, it possesses all the physical characteristics like viscosity, hardness, glass transition temperature, variable temperature resistance, good electrical properties, and shelf-life stability (if stored in the right condition).
Single component system. No mixing required.

Heat curable for faster reactivity and cure profile.

Ease of dispensing and application.

Has good electrical insulation properties.

Generally has higher Glass Transition (TG) Temperature.

Good Thermal Coefficient of Expansion (CTE).

Good cured hardness.
Potting of RFID tags.

Micromotors housing sealing.

Relay sealing.

Electronics potentiometer sealing.

Smart card sealing.
Vitrobond HEM 405 - High Glass Transition. Good heat resistance. 
Vitrobond HEM 495 - High Glass Transition. Good heat resistance. Good thermal shock.
Vitrobond EN 484 - High viscosity. High Glass Transition. Good thermal shock resistance.
Vitrobond EC 465 - Low-temperature cure with medium viscosity.
Vitrobond EC 1002 - High viscosity. Good adhesion to most substrates.
Vitrobond EC 1200 - Fast cure at low temperature. Low viscosity.
---
Epic 0154 - Low viscosity for electrical component potting with low-temperature cure.
Epic 0156 - Medium viscosity for potting and impregnation of coils, transformers, and motors.
Epic 0218 - Excellent bonding, thermal, and structural strength properties that meet UL 94HB.
Epic 0227 - Potting compound with high thermal conductivity and glass transition. Pass UL 94V-0.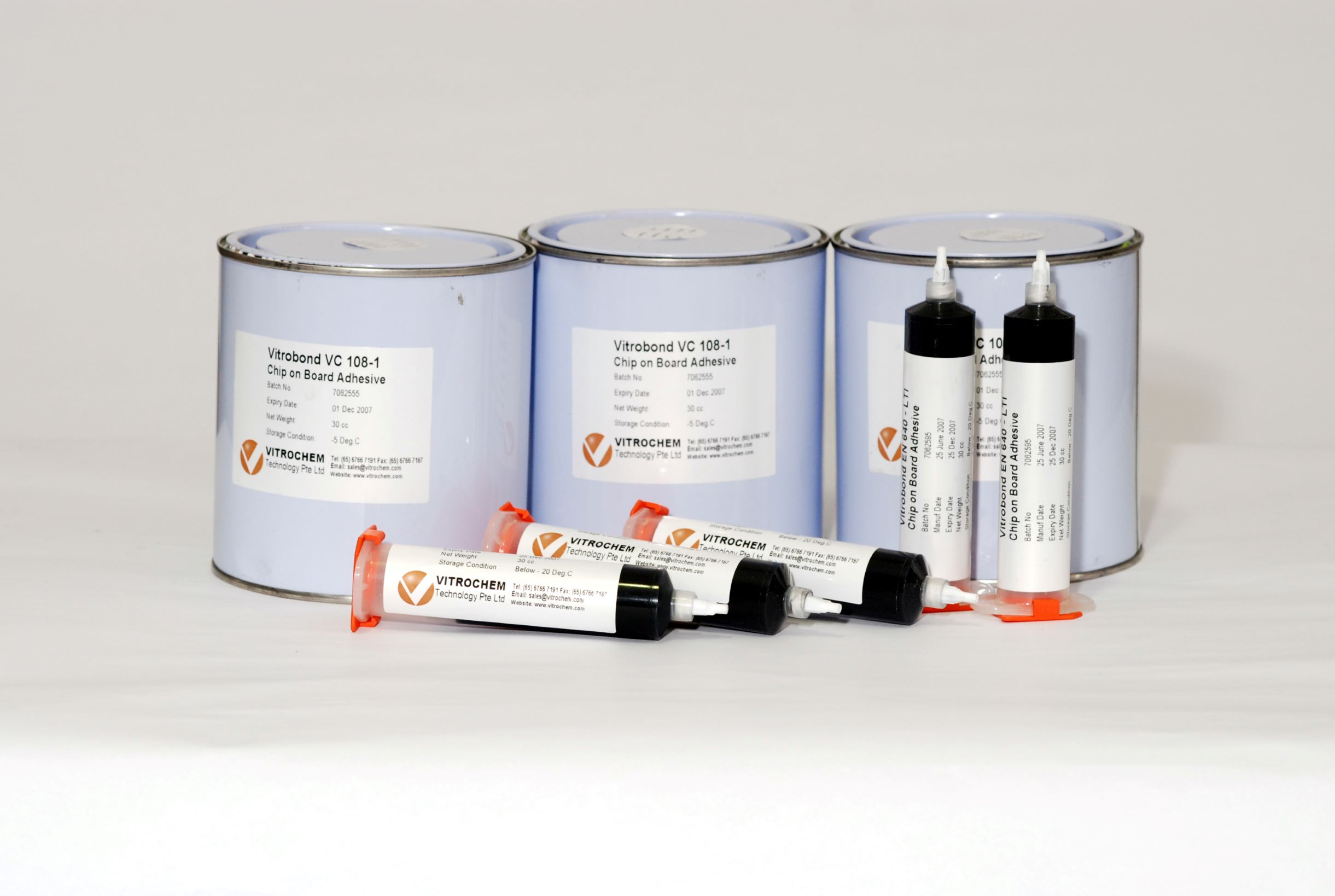 Electronics potting and encapsulating compounds by using 2 Component Epoxies from our range of offerings are formulated for consistent material performance, with excellent dielectric properties, electrical insulation resistance, thermal conductivity, thermal shock resistance, mechanical strength, adhesion, hardness, cure speed, chemical resistance and UL approval.
Room temperature curable.

Variable viscosity and setting time.

Has good temperature resistance property.

Able to withstand thermal cycling.

Bond exceptionally well to most substrates.

Has thermal conductivity property.

Able to meet UL fire rating standard. 
Automotive Coils 

Sensors 

Switches & Transformers

Submersible Pumps

Motors & Stators

Relays, Resistors & Capacitors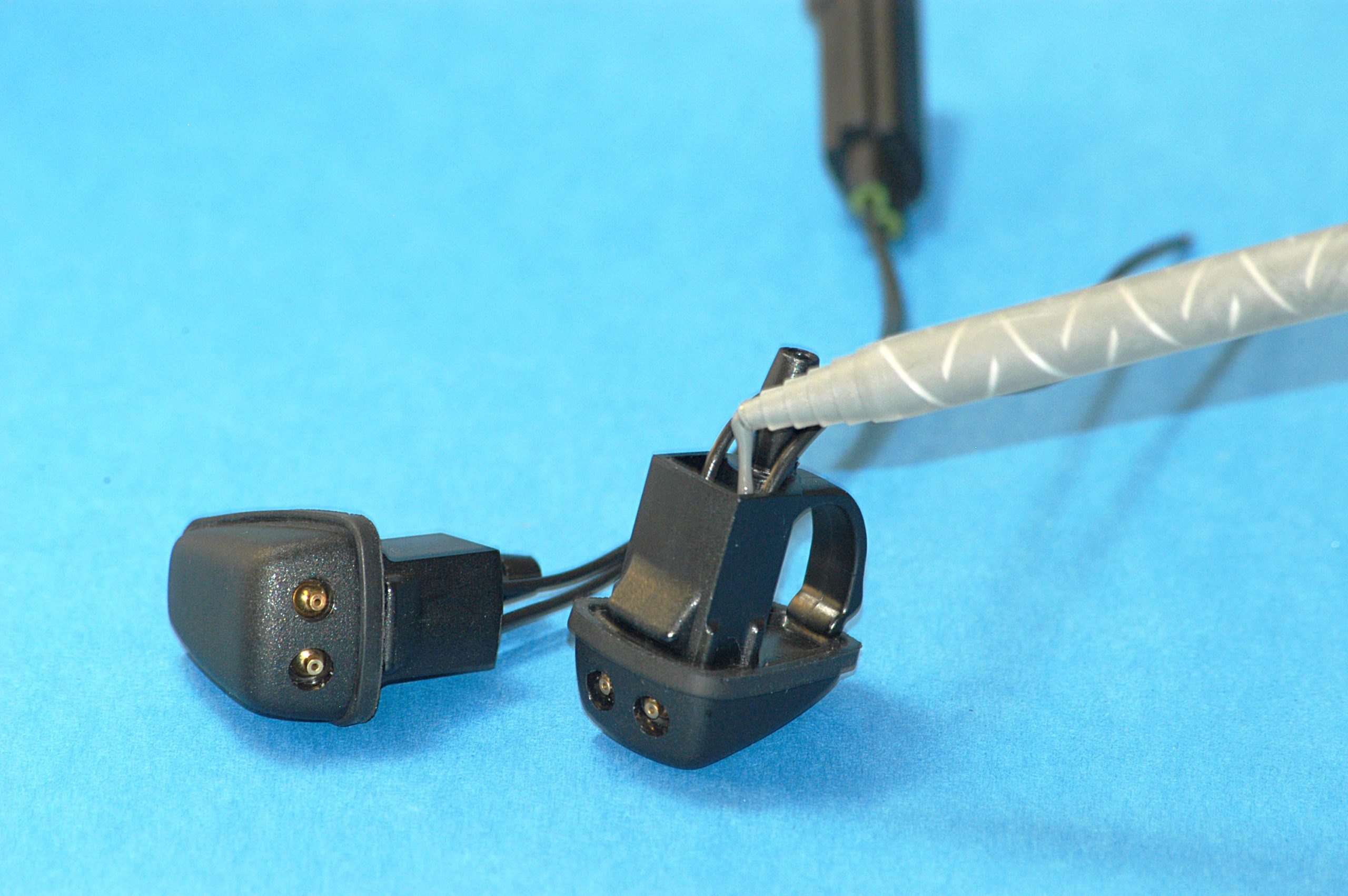 Two Component Polyurethane
Two-component polyurethane adhesive another chemistry of potting compound that can replicate virtually any type of hardness for products including gel, glass, thermoplastics, rubber, and LED compounds. Two-component polyurethane system is widely used for encapsulation and potting of electronic components due to its versatile features like low durometer, variable viscosity, good dielectric function, excellent electrical insulation, thermal conductivity and UL approval with some grades meeting 120C RTI rating in the formulation.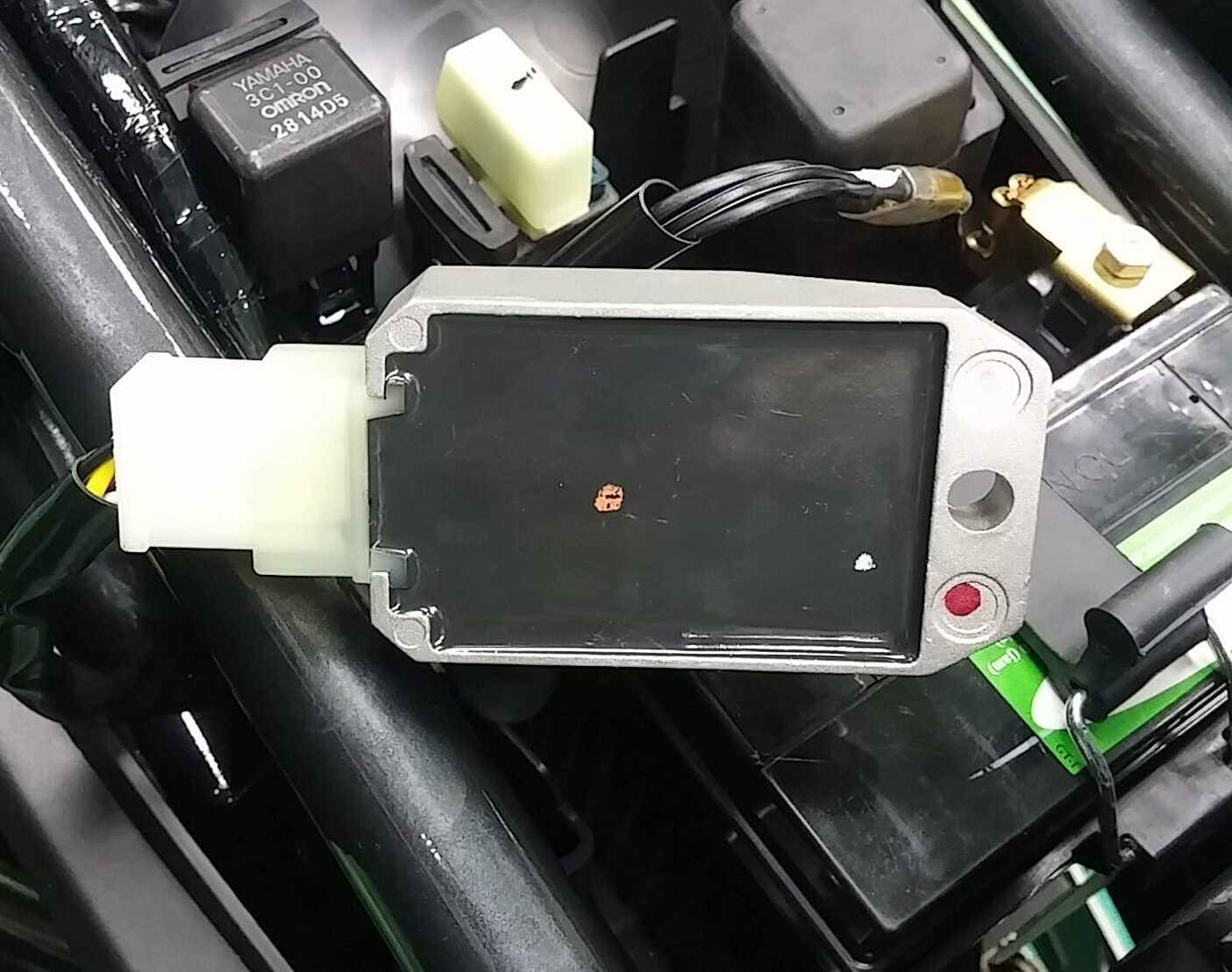 Room temperature curable.

Variable viscosity and setting time.

Low to medium hardness durometer

Good shock and impact resistance

Has good temperature resistance property.

Able to withstand thermal cycling.

Bond exceptionally well to most substrates.

Has thermal conductivity property.

Able to meet UL fire rating standard. 
Automotives & Coils Assembly

Control Modules & Timers

Microelectronics

Radio Frequency Potting

Transformer

Torroids

Switches

Connectors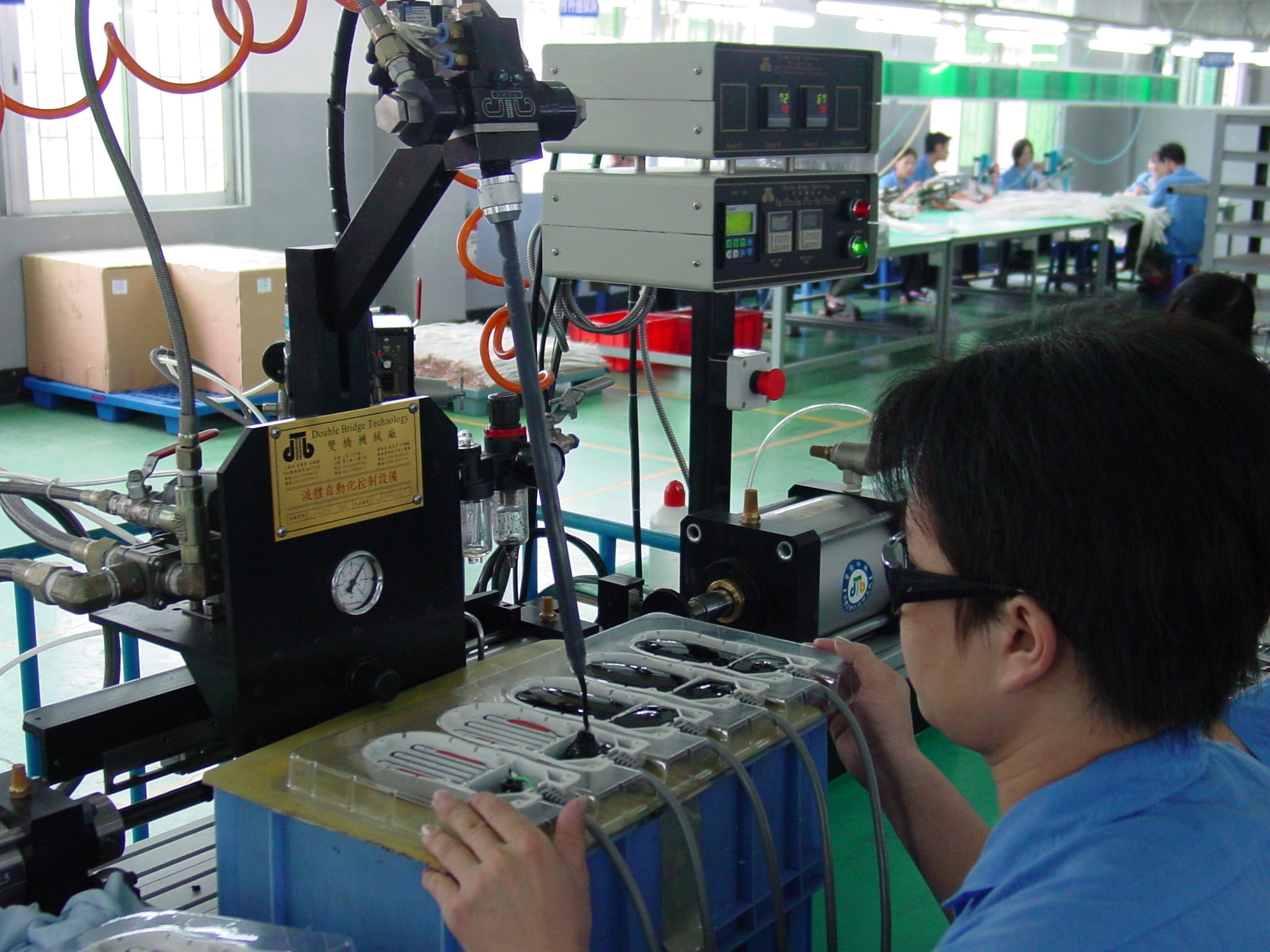 Silicone Potting Compounds
Like Epoxy & Polyurethane potting compounds, Silicone encapsulation offers robust protection to the sensitive electronic components and devices from the harsh environment and offers electrical insulation purposes.
Silicone encapsulation compounds are available in 1 or 2 component systems that will cure to its full hardness when completely polymerised either with moisture or through curing agent or catalyst if it is 2 components.
With its wide range operating temperature conditions (-400C to 2000C), high flexibility, low Glass Transition property, makes it an ideal low-stress potting compound.  Cured silicone potting compound has good electrical insulation, thermal conductivity, low dielectric constant for radio frequency application and low durometer hardness to absorb any form of stress or shock during operation. It can adhere very well to most engineering plastics.
Withstand high temperature up to 200ºC.

Room temperature curable with 2 component system.

Good weather elements resistance

Non-yellowing. 

Good Thermal Coefficient of Expansion (CTE).

Low Dielectric Constant.

Good electrical insulation properties

Low to medium durometer hardness.

100% solventless.

Easy mix ratio.
LED Lighting Module

LED Driver

Automotive Reverse Sensor

Rain Sensor Device

RFID Glass Tag

DC Motor

Power Devices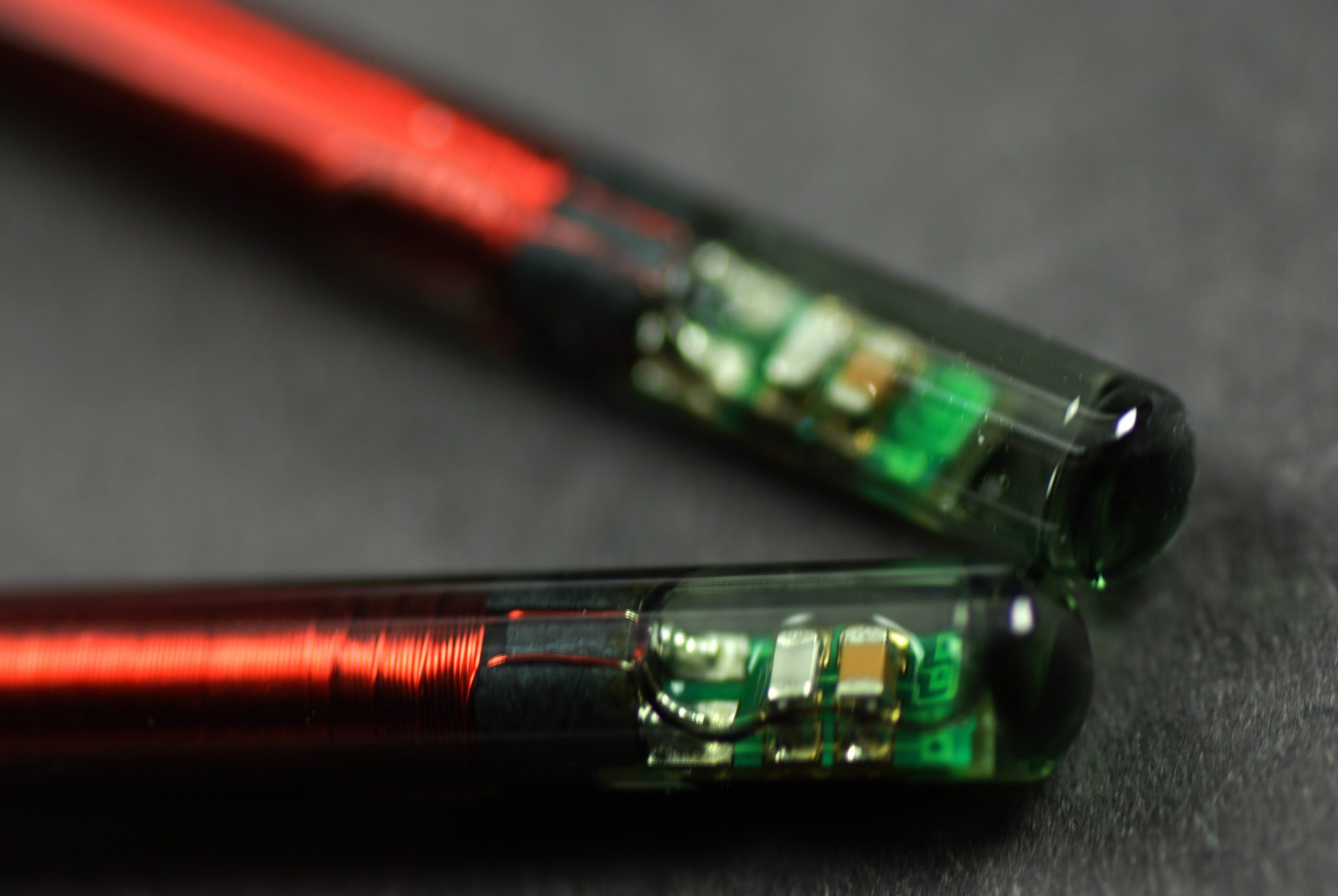 Low Pressure Molding Compounds
Low-Pressure Molding (LPM) compounds are made up of Polyamide and Polyolefin  (hot-melt) materials or thermoplastic-based in the formulation. It is a process used to encapsulate and environmentally protect electronic components and PCBs. The purpose is to protect electronics against moisture, dust dirt and vibration. 
These LPM compounds will melt flow at the required temperature and it is being injected into a metal mold with low-pressure force to encapsulate the bare components inside the metal cavity. Upon cooling, the component is being released from the metal mold that is completed encapsulated with the LPM compounds. 
These 'hot melts' are primarily used for the rapid assembly of structures that are subject to light loads, such as the filter industry, electronics and sensitive components.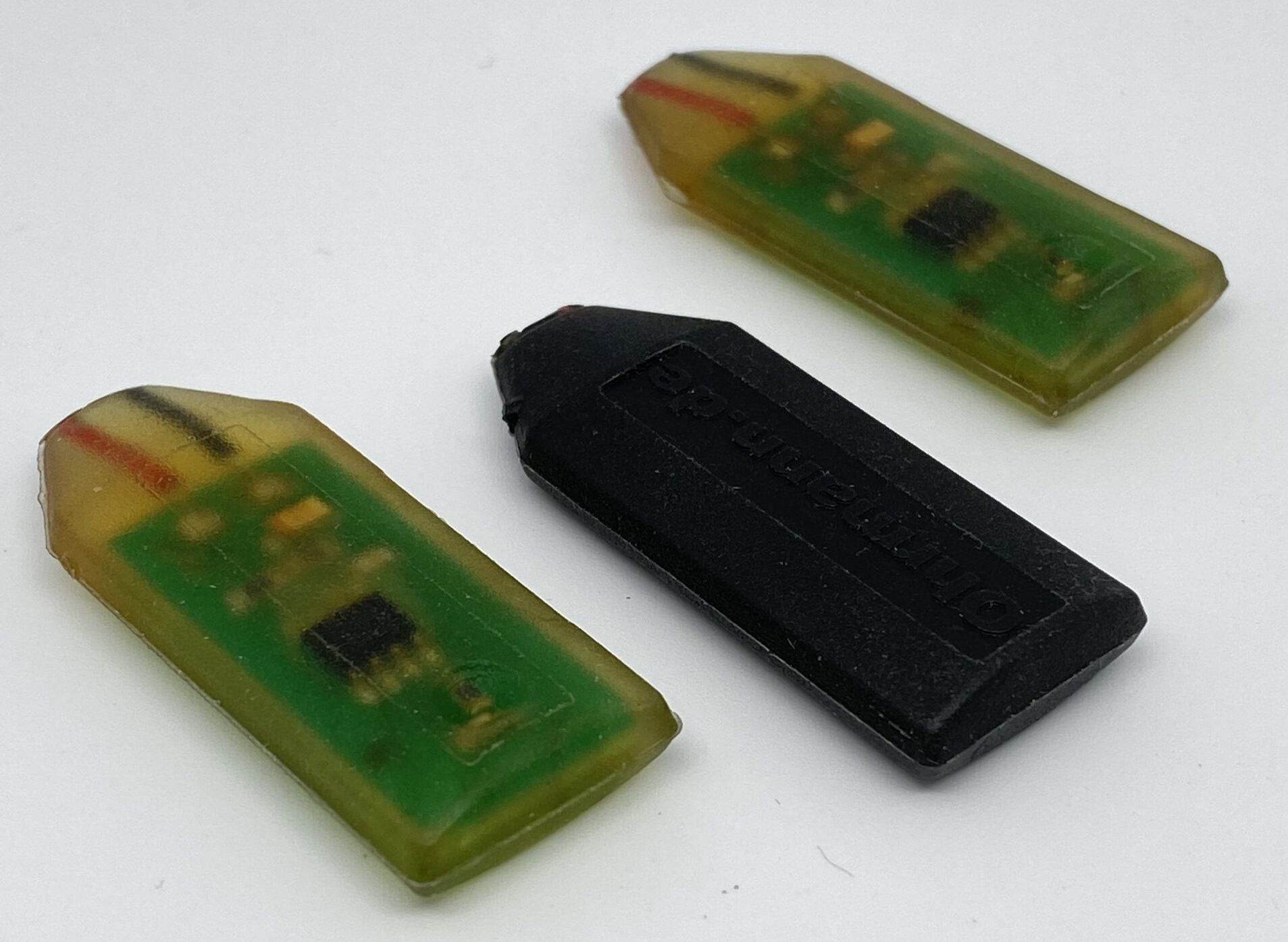 Main advantages
Solvent-free, environmentally-friendly

Short setting time makes them ideal for high volume applications

One-component adhesive, easy to apply via a hand-gun or automated system

Low waste

Easy to store in granule form.
Offering versatility, range and cost savings for manufacturers.Performance characteristics include:
Applied in a molten state

Bond forms rapidly during cooling

Rapid green strength

Can be reactivated by heat.
Wire harness

Cable joints

Printed Circuit Board overmolding.

Switches 

Sensitive electronics devices

Mini transformers

Micromotors encapsulation
Frequently Asked Questions
Between the 3 systems, epoxy is more rigid, polyurethane slightly flexible and silicone can be very flexible after curing.

Epoxy has better chemical resistance, good thermal resistance and better adhesion strength 

Polyurethane has good CTE, lower durometer, wide range temperature resistance, lower exothermic and competitive value. 

Silicone has superior heat resistance (+200C), very flexible, good CTE and easy to use mix ratio. 
It all depends on your end product requirement or the final functional performance. Each individual potting compound has its own unique characteristic as it is formulated to meet certain specific requirements. For example, if a device requires potting to protect and insulates the electronic components within, requires heat resistance up to 120C continuously, low durometer hardness, has some thermal conductivity for heat dissipation and must be UL 94-V0 approved, then polyurethane adhesive will be most ideal for this application. 
It all depends on the potting production output quantities for each day and how critical it is for cosmetic appearance. Generally for manual mixing (for small batch production), the surface finishing of the potting compound is trapped with micro blow holes or worst case streaking mark from agitation. Sometime, due to budget constraint and quantity output, manual mixing is preferred over meter mix machine. With automatic mixing, it takes away the cumbersome task of weighing, mixing and vacuuming by manual hand mixing. 
Generate microbubbles during mixing.

Moisture will trap in the mixed compound.

Foaming issue especially with polyurethane system

Aesthetically not acceptable
Subject mixed compound to vacuuming process.

Warm up the mixture slightly to lower viscosity and bubbles.

Centrifuge the mixture if packed into a syringe.
Yes. Heat will be generated during the curing or polymerisation process. This is part of the exothermic effect between the Resin and Hardener at the final stage of polymerisation. To minimise exothermic reactivity, it is ideal to cast or do the encapsulation within a metal or heat conduction potting shell or housing. 
We do provide custom encapsulation formulation for our customers if the existing systems fall short of their requirements. However, this service or support is only possible if the entire project has good enough long term volume usage. 
We do have a good range of 2 components epoxy and polyurethane that are certified to UL fire rating. Most of it complies with 94V-0, V-1, V-2 and some HB. 
Majority of the epoxy, polyurethane and silicone encapsulation compounds are manufactured with sustainable raw materials that are in compliance with the latest EU compliance directive like ROHS & REACH.